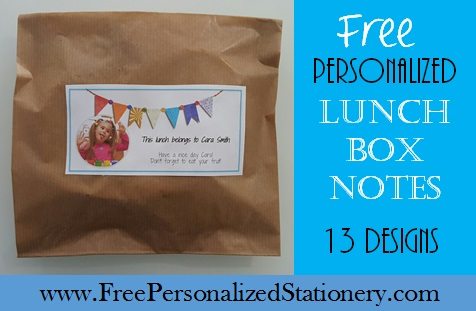 These printable lunch box notes for kids can be personalized in less than one minute.  Type in any text. Print on sticker paper or regular paper. Insert the note into the lunch box when your child isn't looking and surprise her when she opens her lunch!
You can write a note, joke or a reminder for your child (such as eat your fruit, veggies or don't forget soccer practice).
There is a version with a photo and one without.
13 designs available! Scroll down to find one you like.
How to Add a Photo to the Lunch Note
Click on the photo and select the image from your PC.
Make the photo larger or smaller so that it fits in the frame. Move it around if it doesn't fit perfectly in the frame.
Tips:
You can add a photo of the child or even someone the child idolizes such as a basketball player or soccer player.
Once you are making the notes you can make a few copies and use them occasionally to surprise your child. You can also leave them blank and fill in the details in your handwriting.
If you are making  a few lunch notes for kids you can customize each one for a different child. The text does not have to be the same on each note.